Joannis didge raduno 2023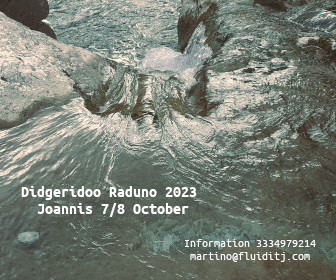 Gathering for didge players and for anyone interested to listen and learn something more about this fascinating musical instrument of the Australian Aboriginal People.
The gathering will take place at the farm, "Ai Vecchi Ippocastani" in the small village of Joannis, on the outskirts of Aiello del Friuli.
It will be possible also to simply meet other didge players, to play and to listen. From early afternoon to late evening there will be an open stage and then later in the evening performances. If you would like to play please contact the organisers so that the program can be finalised - every player will have a maximum of 20 minutes of stage time. For the open stage session the time limit will be about ten minutes.
Dinner will be available with both traditional and vegan dishes. Late in the evening when we need to unplug the power the concert and jam sessions will continue into the night.
To arrive, at the Palmanova exit from the autostrada take the road south towards Cervignano. After a few kilometres turn to the left to enter the small town of Strassoldo. After another 500 metres turn left following the indication for Joannis and Aiello di Friuli. Just as you enter Joannis immediately on the left is the entrance to the farm "Ai Vecchi Ippocastani". There will be a cleared zone set aside for camping.